First who knows if it will be 100% affordable by the time this is done, which these so-called "affordable housing" are really not that affordable. AND this one, which will replace a dilapidated NYPD garbage, will be just a couple of blocks from the foul smelling, polluting and poisonous waste dump, Royal Waste.
CB 12 Chairwoman Adrienne Adams, called the current site a "blight" and saying her board is thrilled the area will be turned into "something beautiful."
First off, "blight"is too strong a term for this NYPD parking garbage (though it always has tons of litter, the grass surrounding it never gets cut and it is in disrepair, but if we are going to talk BLIGHT, what about that poisonous foul smelling Royal Waste Dump, just two blocks from this future housing. Or what about 93rd Avenue between 170th and 171st Street, where many one family houses were torn down to put up low-class third world shit hole apartment buildings that resemble shit you see in third world countries. What about all those thug auto body shop all along Merrick Blvd. How about Hillside Avenue between 168th and 173rd. Or what about much of South Jamaica, especially south of York College. Hell you want to talk BLIGHT, any of these places I mentioned are more of a blight that this dilapidated parking garbage.
Also the site is at 168 St and Archer Ave, not 93rd as stated in the article. It eventually turns into 93 Ave, but not at this point.
————————————-
From Queens Chronicle:
Boro Board approves Jamaica housing plan
At least 350 affordable units to be built where NYPD parking sits now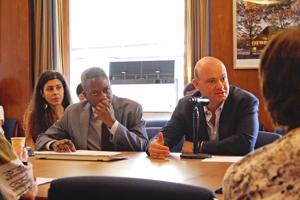 Omni Managing Director Eugene Schneur, right, informs the Borough Board of his firm's plan to build at least 350 affordable housing units on 168th Street in Jamaica, the site of a dilapidated NYPD parking garage. Gbenga Dawodu, center left, the Economic Development Corp.'s assistant vice president of real estate, said work should start early next year.
 Posted:
Thursday, June 15, 2017 10:30 am
The proposed affordable housing development on 168th Street and 93rd Avenue in Jamaica has been given the green light by an enthusiastic Borough Board.
The plan put forth by real estate development firm Omni — presented to the Borough Board on Monday — calls for the construction of "a minimum of" 350 units of affordable housing, along with 75,000 square feet of retail space and 15,000 square feet set aside for community use.
The dilapidated two-story NYPD parking garage at the site, not far from the 103rd Precinct, will be demolished this winter to make room for construction shortly after.
The new building's parking garage will contain about 180 spaces, with at least 60 set aside for NYPD use.
A major aspect of the Jamaica Now community revitalization plan, the proposed structure is about three years away from being constructed and opened, according to Gbenga Dawodu, the city Economic Development Corp.'s assistant vice president of real estate.
"The proposed project will not only provide much-needed affordable housing and neighborhood retail," Dawodu said, "but will help provide the NYPD with a new and improved parking facility and create jobs in the local community."
The EDC's request for proposal was first issued in February 2015, with the agency selecting Omni's proposal this January.
Early iterations of the firm's proposal included a YMCA at the site, but Omni Managing Director Eugene Schneur said that is no longer the case.
"Instead of the YMCA, we will have 15,000 square feet of community space," Schneur said. "We hope at least part of it will be a daycare center or some other educational facility."
Both Councilman Daneek Miller (D-St. Albans) and Borough President Melinda Katz responded by saying there should "absolutely" be some sort of youth center within the building in place of a YMCA.
"We have had conversations before about a youth center; that is really our intent," Katz said. "We're hoping this building will be accommodating to that."
Before casting his vote, Miller said the reimagining of the 168th Street site has been "a long time coming."
"I think this project really reflects the values of the community in so many ways," Miller said. "We are really looking forward to this project getting off the ground."
Not everyone at Monday's meeting was as excited about the plan, however, as Community Board 7 Chairman Gene Kelty said he believes a 180-space parking garage is not remotely large enough to serve the building's tenants, the Police Department, shoppers and neighborhood residents looking to utilize the community space.
"My counterpart in board 12, I just want you to know you're going to have a terrible problem with the parking over there because they don't have sufficient parking," Kelty said to CB 12 Chairwoman Adrienne Adams. "If you don't lock down the site for the Police Department, they will creep into another area over there if they don't end up with 60 spaces."
Adams didn't address Kelty's concerns, instead calling the site a "blight" and saying her board is thrilled the area will be turned into "something beautiful."